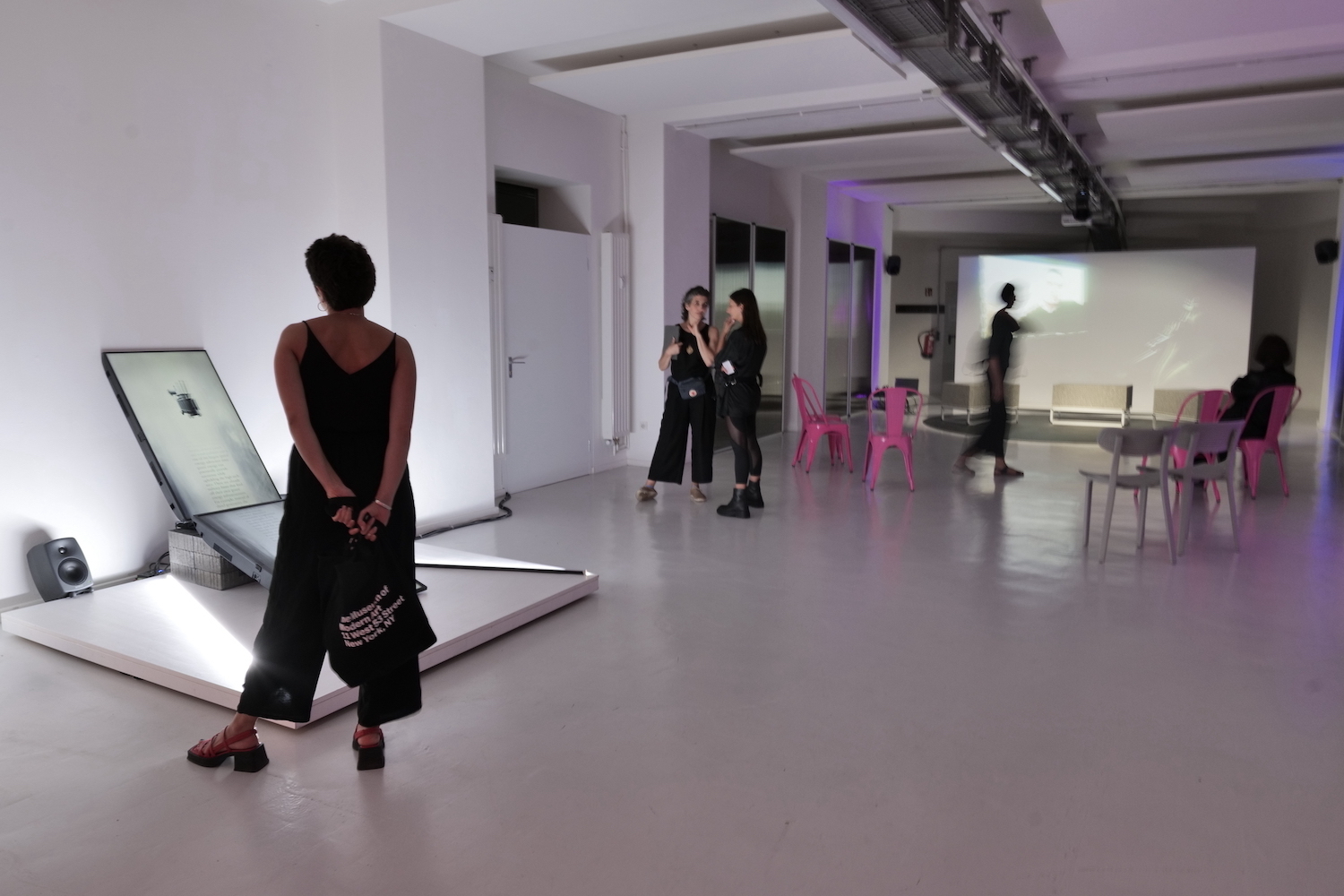 Friday, September 22 | 17-21:00
transmediale studio | silent green Kulturquartier
Free admission | drop by
We warmly invite you to this year's open studio on 22 September, 17-21:00 at transmediale studio at silent green Kulturquartier. Our current artists-in-residence will be presenting their works in progress, there is time and space to engage in one-on-one conversations and have a drink together.
Our current artists-in-residence are: Francisco González-Rosas, Jennifer Merlyn Scherer, Luiza Prado, Lukas Rehm, Paula Montecinos Oliva, and ravyfairx (Camille Lepage).
A Talking Streetlantern, a Sun King, a Crescent Moon on a God's forehead, Sandwalks against Marilyn Monroe, Captured Faces and Hearts listened to and learned from, Ten Thousand Green Dots illuminating a Helicopter in the Night Sky. Lukas Rehm will give an insight into his new work patchedeyes, which focuses on interconnections between observation, agency, power, and technology.
Lecture Performance: 18:00
Paula Montecinos Oliva will share a performative activation of Sonic Feminist Fabulation, a multimodal listening practice that explores the crossroads of radio broadcast with live performance, sounds, silences and noise, acting as carriers of a poetic-political argument, to dislocate the linearity of spacetime and language.
Performative activation: 18:45 (please bring mobile and headphones)
ravyfairx invites us to comfortably plunge into a sound bath, performing the first version of their exploration of endless guitar reverbs mixed with recordings of spaces and their unexpected sounds. Their live performance is imagined to serve as an immersive moment where bodies and space communicate and work together.
Jennifer Merlyn Scherler's current research focuses on the emotional and empathetic connections humans build with fictional characters, and how, consequently, their deaths are mourned. Their work in progress explores forms of digital grief and how they enable practices of commemorating.
Francisco Gonzáles-Rosa's current research is focused on the subjective experience brought by digital interfaces. The project in development explores various ways in which subjectivity is modeled in online spaces, and within the context of fake news, conspiracy theories, and self-commodification. The figure of the NPC (non-playable character) builds the focal point in observing how political meaning is assigned and coopted by online communities.
Luiza Prado will present an installation featuring key set elements and a first draft of the script for the upcoming film and play Empty Calories. The work in progress focuses on the increasing disconnection between the realities of food production and climate collapse and its widespread consumption as content on screens. Unfolding as a reality tv show, this project continues Prado's work on the history of the luxury spice and medical cure-all silphium.